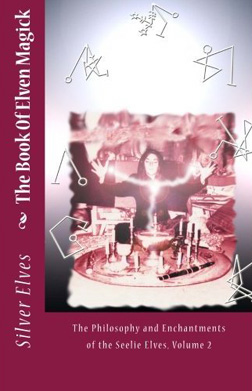 This book is dedicatd to Vivienne Feorynsa Godwin, our beloved sister who founded
the Elven Sisterhood.

Thank you dear C. Shepherd for your comments about our book:

"Anything by the Silver Elves has been both educational as well as well written, I have enjoyed it and found it educational. This book is no exception. Each chapter explores new topic and ideas, and provides more fascination information. If you are interested in Fae/Fairies then any books by the Silver Elves are a must have for your library."



TABLE OF CONTENTS:


PART ONE: THE COLORS OF MAGIC

CHAPTER 1: RED MAGIC 17
The Wand 21
The Cup 23
The Robe 26
The Talisman/Spirit Sigil 27
Red Magic Ceremony 28

CHAPTER 2: BLUE MAGIC 35
The Staff 38
The Book of Shadows 40
The Lamp 42
The Shield 44
Blue Magic Ceremony 46

CHAPTER 3: YELLOW MAGIC 53
Peace Pipe 58
Rings of Power and Frasority 60
The Bell 61
Coat of Arms/Seal of Radiance 63
Yellow Magic Ceremony 64
CHAPTER 4: GOLDEN MAGIC 71
Evoking Demons 72
Making Pacts with the Devil 74
Evocation is a Daily Activity 76
Initiation 77
Spirit House 79
Scepter 80
Incense 82
The Contract 84
A Ceremony of Golden Magic 85
The Magic Triangle 86

CHAPTER 5: SILVER MAGIC 93
Sacred Sacrament 96
Oils of Anointing 98
Elven Book of Spells 100
Crown 102
Silver Magic Ceremony 104

CHAPTER 6: USING MUDRAS
AND TATTOOS IN MAGIC 111
Purity: White Magic 113
Retribution: Black Magic 114
Healing: Green Magic 115
Prosperity: Orange Magic 116
Opportunity, Creativity: Purple Magic 118
Love, Romance, Sex: Red Magic 119
Wisdom: Blue Magic 121
Harmony and Peace: Yellow Magic 122
Evocation, Initiation, The Quickening: 124
Gold Magic mudras 124
Invocation, The Ascension: 126
Silver Magic Mudra 126

CHAPTER 7:
USING MANTRAS IN MAGIC 129
White Magic 129
Black Magic 129
Green Magic 129
Orange Magic 130
Purple Magic 130
Red Magic 130
Blue Magic 130
Yellow Magic 131
Gold Magic 131
Silver Magic 132


PART TWO:
DIRECTIONS AND DIMENSIONS IN MAGIC

CHAPTER 8: THE FOUR DIRECTIONS 135

CHAPTER 9: THE FIVE DIMENSIONS 141
Uvynde: the Dimension of Energetic and Radiance Spirit and the Staff of Power 141
Intyrnalys: the Dimension of Air/Gas, the Mental Plane, and the Sword of Truth 143
Avalan: the Dimension of Liquid/Water, the Realm of Feelings, the Magic Cauldron 147
Ovyryn: the Dimension of Earth/Solid, The Stone of Fal 149
Elfynea: the Dimension of the Inner S'elf, the Soulful Spirit Manifest, the Sacred Pool,
The Rings of Power 151

CHAPTER 10: ABOVE AND BELOW 153

CHAPTER 11: A WORD ABOUT TRUE WISHES 157


PART THREE:
THE LAWS OF MAGIC OF THE SEELIE ELVES

CHAPTER 12: SEELIE ELF LAWS
OF KARMIC DYNAMICS 161
CHAPTER 13: DOOM, FATE, GEAS, KARMA, DHARMA, AND DESTINY 163


PART FOUR:
THE MAGICAL COMMUNITY OF THE SEELIE ELVES

CHAPTER 14: STARTING YOUR OWN SANCTUARY/TEMPLE/GROVE/VORTEX 169
The Sanctuary of the Seelie Elves 169
The Order of the Temple 171
Magician 174
Exorcist 175
Shaman/Healer/Curandero 178
Conjuror 179
Sorcerer 181
Ganconer (Love Talker – Love Whisperer) 183
Wizard 184
Warlock 185
Necromancer or Necroturge 187
Thaumaturge 188
Enchanter Supreme 190

CHAPTER 15: HOME SCHOOL/ELF SCHOOL 193

CHAPTER 16: SEELIE ELVES AND COMMUNAL LIVING 195
Seelie Elf Guideline for Communal Living 195
House Meetings 195

CHAPTER 17: RESPECT AMONG MEMBERS OF THE VORTEX 197


PART FIVE:
MISCELANEOUS MUSINGS ON MAGIC OF THE SEELIE ELVES

CHAPTER 18: WE HAVE THE DEVIL'S NUMBER AND IT IS SICK, SICK, SICK! 201
The Struggle of Equality 204
Meditation, The Eye of the Storm 205

CHAPTER 19: WE USE ALL MAGIC 207


CHAPTER 20: BEWARE OF
THE ROBOTS 209
Haiku 210
Seelie Elf Koan 210

CHAPTER 21: COMMUNION 211

CHAPTER 22: ALL TESTS ARE PASSED ON THE TRAINING ROOM FLOOR 217

CHAPTER 23: THE LORD OF LIGHT, LOVE, LIFE, AND LIBERTY 219
Lord of Light 219
Lord of Love 220
Lord of Life 220
Lord of Liberty 221

CHAPTER 24: MAGICAL WORDS OR WORDS
OF POWER 223

CHAPTER 25: THE MASK AND FACE PAINTING 227

CHAPTER 26: STOPPING TIME 229

CHAPTER 27: ANCIENT MAGIC 231

CHAPTER 28: THE BODY AND MAGICK 233
Sacrificing Your Virginity 233
The Body of Light 233

CHAPTER 29: MISTAKES, DEMONS, AND THE LOWER ASTRAL PLANES 235
Mistakes 235
The Chattering Mind 236
Rising on the Planes 237

CHAPTER 30: THE EYE OF THE TAO IS IN EVERYTHING. 239

CHAPTER 31: YOUR HOLY GUARDIAN ANGEL 241

CHAPTER 32: HOMUNCULUS 245

CHAPTER 33: THE DEATH PENALTY 247

CHAPTER 34: ENKI/LUCIFER REMEMBERED? 249

CHAPTER 35: THE GREAT WORK 251
ABOUT THE AUTHORS 253
You may purchase our The Book of Elven Magick: The Philosophy and Enchantments of the Seelie Elves, Volume 2 on Amazon.com. The book is priced at $15 and its purchase is eligible for Amazon's free Super Saver Shipping (Amazon's deal to ship you free if you purchase a total over $25 in a single or combined book order). Please click the Amazon link below and go to Amazon's Silver Elves page to make your purchase. For a preview of the book, you may wish to check out Amazon's "Look Inside This Book" feature that is offered. Remember that you will be going out of the Silver Elves website, so please bookmark us before you go and return often.

Kyela,
The Silver Elves

Our Book on Amazon US:
https://www.amazon.com/Book-Elven-Magick-Philosophy-Enchantments/dp/1478157526/ref=asap_bc?ie=UTF8

Our Book on Amazon UK:
https://www.amazon.co.uk/Book-Elven-Magick-Philosophy-Enchantments/dp/1478157526/ref=asap_bc?ie=UTF8

We invite our international brothers and sisters to go to CheapRiver.com and type the name of one of our books into the search, select your country, and find a comparison of prices selling our books on all the Amazon sites, including shipping, to your doorstep.


Sample of book pages 121-127 from CHAPTER 6: USING MUDRAS
AND TATTOOS IN MAGIC

Wisdom: Blue Magic
The mudra for the blue magic has the two hands coming together, palms toward your chest, ends of the fingers interlocked and thumbs upward at a 90ê angle to the fingers. This position is an invocation of knowledge and wisdom. You are calling wisdom down into your being. The interlocked fingers symbolize the integration of the knowledge you receive.

By bringing the thumbs together, it becomes a mudra for concentrating your mind and your will, and particularly for using the knowledge you have in a wise, effective and efficient way.
By crossing the thumbs, it becomes the mudra for silence, for keeping and preserving the mysteries and revealing them only to those who are ready for initiation. Whereas, by opening the hands so the palms are upward, the thumbs away from you and the fingers intertwined, but not hooked together, it becomes the mudra for the dissemination of information, the spreading of the word.

While you can usually use a mudra in most situations, there could be times when it may not be possible, for whatever reason, to do so. In such a case, it is possible to visualize the mudra, doing it thus on the mental/imaginal planes, which can also be effective. Remember the imaginal planes are the plans, the architectural and archetypal designs, upon which the world is created.

These mudras can be used in a general way toward accumulating knowledge of all sorts, or for summoning whatever knowledge and/or secrets the universe deems appropriate at the time to reveal to you. It can also be used in a more specific fashion toward attaining knowledge on a particular subject or technique. It can be used to reveal the hidden, as well as improve your ability in any desired area in which you seek greater knowledge and understanding. However, there may be things we are not yet developed enough to comprehend. In these cases, like a child hearing something that doesn't make sense to hir at the time, we can only store the essence of the information for the future when understanding will suddenly dawn on us, and what seemed obscure becomes clear through revelation. The Mysteries are often revealed like a jigsaw puzzle. We fit together numerous pieces giving us glimpses and hints until finally we get a sense of what the overall picture is.

These mudras of the Blue Magic can also be used to increase one's intelligence, which is to say clear the mind so it works more effectively and efficiently. It can also open the mind to inspiration so new, powerful, and transformative ideas can easily enter in. Note that there is more than one type of intelligence. Howard Gardner theorizes there are at least 9 types of intelligence, including musical intelligence, natural intelligence, and social intelligence (see Frames of Mind. The theory of multiple intelligences by Howard Gardner). All of these different forms of intelligence can be increased and made more powerful through the use of these mudras.

Harmony and Peace: Yellow Magic
If you wish to instigate peace and harmony among people who are not predisposed to harmonizing with each other, use this mudra. Bring the fists together, one up and one down, and so the knuckles are against each other then extend the thumbs so each one rests on the little finger of the opposite hand by crossing it's own index finger. Have the right hand thumb on top if you wish to emphasize logic and reason over passion, and the left thumb to the top if you wish to emphasize affection and passion over ideology and rationalization.

To bring peace to those who are bickering, but do not hate each other, and in fact may be naturally inclined toward harmony, have each hand grasp the wrist of the other hand. Again, have the right or left hand, thumb up, depending on which powers you wish to emphasize.

Logic and reason are good when people dislike or hate each other, but where their financial or other common interests can bring them together. Alternately, where the source of conflict is one of ideology and philosophy, the emphasis will be on affection and feeling since we must arouse the feeling of love for one's own group to spare it the pain and suffering of conflict, and the feelings of sympathy to put one in another's shoes, so to speak.
Another mudra that is effective for bringing together those who have minor disagreements, is to have one had grasp the other as though you are shaking your own hand, only with one hand over the other. This one is not so effective for major disagreements.


This mudra can also be used when you are about to meet someone for the first time and you wish to create an atmosphere of harmony prior to the meeting. Again whether the right hand is up or the left depends upon which aspect, logic or feeling, you wish to emphasis. Also, note that for individuals who are left-handed this sequence may vary. Use your own intuition to determine which way represents the logical and which the feeling aspect.

These mudras can be used on a small scale, such as one's own family, coven, group, etc. or on a vast scale, as in promoting world peace and harmony. If the response to your workings isn't immediately apparent that need not worry you. In the astral planes you can snap your fingers and anything you want or think will occur instantly. But the world of matter is the world of space/time, thus all magics must unravel through space/time, out and back again to manifest. In your mind a newborn baby can be instantly a child, a teenager, or an adult, but in space/time changes are not instantaneous, but sequential. Here the phenomena of cause and effect come into play, and it is exactly this phenomenon that makes magic possible on the material world.

Remember, contrary to what most people believe, magic is not a violation of Nature, or of the natural order, but is achieved through a greater understanding of the nature of reality. Magic does not violate the laws of Nature, but uses them to achieve its ends. (Which does not mean we don't stretch the rules now and again.) However, reality is far vaster and infinitely more flexible, more protean, than most folks comprehend. We elves love Nature and achieve our magic by harmonizing with it, becoming one with it, and making it our friend, not by going around it, above it, or forcing it. You might say magic comes naturally to the elves.

Evocation, Initiation, The Quickening:
Gold Magic Mudras
Bring your hands together and cross them at the wrists with the thumbs interlocked and the palms toward you, the fingers splayed like wings. Now, fold and interlock the fingers around the thumbs. This is the gold magic mudra, and it will aid you in influencing a particular person/spirit to come and appear before you, or contact you. If your relationship with them is basically one of business, such as a contract to be fulfilled, then have the right wrist closer to you and the right thumb over the left. If your relationship is one that is more feeling and emotional/personal in nature, have the left wrist toward you and the left thumb on top.

By placing this mudra against your forehead or heart, or some other chakra position, it becomes the mudra for "the quickening". (The chakra position being the primary influence for how the quickening functions. Thus concerns about survival in the world would involve first/base chakra and so on.) These positions, especially the 5th, 6th, and 7th chakra positions, promote and instigate change, and move you rapidly toward your next initiation. Use this mudra carefully because the consequences can be quite severe if you are not really ready to move on. Keep in mind that turning up the heat doesn't necessarily make the cake bake quicker, it can burn it. You may be calling too much force upon yours'elf, but as in all things Seelie Elfin, you must be the judge.

This mudra can also be used to "quicken" others. In this case, extend the mudra outward so the hands are away from the body and the elbows against your abdomen. This also should be done with care, and in most instances it is unwise to use it as a weapon. However, doing so might harm the individual by increasing hir power beyond hir ability to handle it (although it is a very clever and elven way of proceeding, but has its risks). It could just backfire on you, for sHe may prove more resilient than you think, and you will have lent hir power instead of having hampered hir. Also, and this is the clever part, it has the consequence, karmically, of increasing your own power when the energy comes back to you. But, remember that the intention is an important part of magic so if your intention was to overload the person that intention will also return to you. Plus, the energy returning to you will be amplified/multiplied, as it always is in magic, and thus what may have been an overload for that individual could be an extreme overload for you, even if you are very advanced in regard to your opponent. Again, the vital aspect in magic, particularly as you rise in the supra-dimensional spiritual planes of being and the deeper realms of Faerie, is intention. Thus when Jesus advised us to love our enemies, he was being a very clever, knowledgeable and wise elf, indeed.

Thus, even when your intentions are good, you would be wise to exercise caution in using this mudra. Are you sure you are helping them? Are you ready to assume the responsibility for making that judgment? All magic returns to its creator. All elfin magic returns with stardust.

Invocation, The Ascension:
Silver Magic Mudra
The mudra for the silver magic helps you to ascend to new and higher levels of being. Here you do not wait for initiation, you initiate. You assume responsibility for your own life and power, and the use of those powers. You are a pioneer in unexplored territory, and you create your own pathway. You begin to transform the raw potentiality of the Magic, which is at the heart of the Universe, and shape it as you Will to create your own realm of Faerie/Elfin according to your Vision.

For this mudra, bring your hands together so your thumbs, index fingers, and little fingers are touching at the tips. Your ring and middle fingers should be touching at the knuckles along the length of the middle digits.

Or, you can create your own mudra for this position. Can you? Do you dare? If you do, will you believe in it, and use it, and be empower by it? Or do you need to see it in a book to believe in it? That is the real question. Do you dare create your own world, your own magic, your own mudra? If not, then you're not really ready for this level of power. However, if that is the case, the mudra we described above will help you to prepare for this level. Do it until you are ready, or are inspired to create your own. This is the transition point. You can do it. We have complete confidence in you. After all, you are a spiritual descendant of the Elven-Faerie peoples.
Ultimately, you can't get your magic from books. This book's one true purpose is to encourage you to do your own elfin magic. Everything we write and do here is merely presented as examples for you to learn by, to mix and match, transform into your own, in your personal style, motivated by your personal power. We elves are both eclectic concerning our magic and our culture, and transformative. We take everything we find, like, love, and to which we feel a relation, and we make it our own. We elfinize it. We wave our magic wands over it, sprinkle it with faery dust, pixie powder, and starlight and it becomes elven. We encourage you to do the same in your own way.
And we trust that you in turn will aid others to do the same, until all of us have been freed, our powers unleashed, and paradise/Elfin/Faerie reclaimed. It is ours after all, our home, our culture, and our creation.

We speak to you across time/space, setting this magic in motion so that when we come again these words, or others like them, will help us toward the liberation of our minds, bodies, souls and spirits. Just think, we could be your children, your grandchildren, your sister, brother, cousin, friend, or kin; we could even be you!