Kyela,
The Silver Elves
Our Book on Amazon US:
https://www.amazon.com/Elf-Magic-Mail-Book-Commentary/dp/1503150240/ref=asap_bc?ie=UTF8
Our Book on Amazon UK:
https://www.amazon.co.uk/Elf-Magic-Mail-Book-Commentary/dp/1503150240/ref=asap_bc?ie=UTF8
We invite our international brothers and sisters to go to CheapRiver.com and type the name of one of our books into the search, select your country, and find a comparison of prices selling our books on all the Amazon sites, including shipping, to your doorstep.

Sample writing from Elf Magic Mail Book 2, pages 41-44, transcribed from original letters in 1970s:
Title: The Winged Star (top left corner descending toward middle page)
*An image of this letter is on the following page 42.

IMAGES: 1. (BOTTOM RIGHT ABOVE ADDRESS) A SEVEN-POINTED ELVEN STAR, THE TOP POINT WITH RADIATION LINES ABOUT IT LIKE THE SUN, THE TWO POINTS ON EITHER SIDE WITH FEATHERED WINGS, THE TWO LOWER SIDE POINTS WITH THE GLYPH OF THE SUN ON THE LEFT, AND THE GLYPH OF THE MOON ON THE RIGHT, AND THE TWO BOTTOM POINTS BECOMING TALON-ED BIRD LEGS. A TRIPARTITE YIN/YANG/YING IS IN THE CENTER OF THE STAR.
2. (BOTTOM LEFT CORNER) SPIRAL GALAXIES.
3. (MID PAGE BETWEEN IMAGE 1 AND 2) I CHING HEXAGRAM #1 THE CREATIVE CHANGING IN THE SECOND LINE TO #13 FELLOWSHIP WITH MEN.
FROM: ELVEN SISTERS (BOTTOM RIGHT)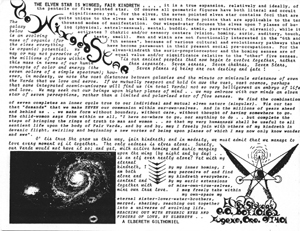 (to right of title)
THE ELVEN STAR IS WINGED, FAIR KINDRETH …. it is a true expansion, relatively and ideally, of the pentacle or five pointed star. Of course all geometric figures have both literal and occult significance; yet, for the elves, the seven pointed elven star contains foci that are quite unique to the elves as well as universal focus points that are applicable to the ten thousand modes of manifestation. Our winged-star focuses the elves upon 7 planes of being (physical, astral-sensual, mental, buddhic, atmic, para-nirvanic, nirvanic), which it activates 7 chakric and/or sensory centers (vision, homing, auric, auditory, touch,taste, smell). Men and wimin are not functionally interested in the "6th and 7th senses", because of various cultural and evolutionary pathways that have become paramount in their present social pre-occupations. For the elven-kindreth the auric-proprioceptor and the homing senses are of equal value and/or significance relative to the "other" five senses. Tis our ancient peoples that now begin to evolve together, rather than separate. Seven senses, Seven Chakras, Seven Stars, Seven planes of being are our destiny and fate!

(beginning left of title and concluding beneath paragraph 1)
The galaxy below is an evolving mass of organic (for the elves everything is organic) potential. We may or may not perceive of the millions of stars within this mass in terms of our humin concepts of color and energy (the seven colors of a simple spectrum); however, in modesty, we note the vast distances between galaxies and the minute or miniscule existence of even the Varda that we love and serve. If we mutually respect and hold in awe the vast, vast cosmos, perhaps that same integrated cosmic-universe will find us (in total Varda) not so very belligerent an embryo of life and love. We may seek out our beings upon higher planes of mind .. we may embrace with our minds an elven star of seven perceptions, rather than a limited and polarized star of five senses.

We find the combination of seven completes an inner cycle true to our individual and mutual elven nature (singular). Tis our tao that "demands" that we make SEVEN our communion within our-own-selves. And in the millions of years ahead and behind us .. we make form without boundary, without care, without thought of having somewhere to go. The child-womon says from within us all, "I have no-where to go, nor anything to do .. but complete the steps of bringing the rings of truth to man and womon .. so that my very humanness shall be useful to all sentient life upon the body of Fair Varda, and by and by, may I freely join with others of my kindreth in devanic flight, swirling and beginning a new vortex of being upon planes of which I may now only know wonder and awe".

(beginning above and concluding between images 2 and 3)
O' tis true She grew us this way, fair kindreth; and in modesty, we must admit that we manage to love every moment of it together. The only sadness is elves alone. Surely, our Varda would not have it so; and yet, with active homing and auric merging upon the wing (by night and by day) .. is an elf ever really alone? Yet with my eternal kindreth, I am both alone and content and together with mine own true love.

(beginning between images 1 and 3 and concluding beneath image 3 and between 1 and 2)
By my inner homing, I may perceive of and find my kindreth everywhere. By my auric extensions of mine-own-true-selves, I may freely take within my own-space my eternal sister-lover-water-brothers, merged, sharing, reaching out together into a universe of evolving life. REACHING OUT WITH ETHERIC EYES AND FINGERS OF LOVE, BY ELBERETH .. A ELBERETH GILTHONIEL.

COMMENTARY BY THE SILVER ELVES:

We would like to bring particular attention to the drawing of the winged 7 pointed star in this letter, which these sisters were the first to draw, use and adopt as the elven star (now also called the faerie star). Viewing the 2 legs and 2 arms and head of the human represented by the five points of the traditional 5 pointed pentacle, these sisters added the two wings of the elves as the other two points for a seven pointed star representing elfin evolution and spirituality.

Once again in this letter, we see the sisters incorporating Buddhist, Hindu and Taoist philosophy with modern science. We elves are an eclectic folk and turn every worthy idea, technique and philosophy to our own ends. The Universe is one and we know our s'elves to be one with it. And note again that now the sisters speak of Varda and Elbereth where previously they wrote of Mother Earth.

For more on the many, many meanings and occult associations of the number 7 see Blavatsky's Occultism of the Secret Doctrine, which has a much on this.