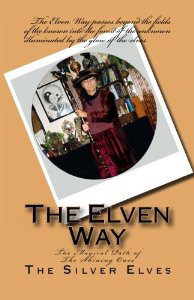 "The Elven Way passes beyond the fields of the known into the forest of the unknown illuminated by the glow of the elves."
(From the cover)

This book is dedicated to the Shining Ones, our beloved kindred, who have guided and protected us our entire lives. We will meet you in Faerie by and by,

"We elves and faeries are often portrayed as dancing in a circle. This is because we see life as a dance and becasue the Elven Way goes ever on."
(page 4, introductory quote)

You may now purchase our "The Elven Way: The Magical Path of the Shining Ones" on Amazon.com. The book is priced at $13.00 (although often on sale for only $9.99) and its purchase is eligible for Amazon's free Super Saver Shipping (Amazon's deal to ship you free if you purchase a total over $25 in a single or combined book order).

Please click the link below to Amazon's Silver Elves page to make your purchase. For a preview of the book, you may wish to check out Amazon's Look Inside This Book feature that is offered. Remember that you will be going out of the Silver Elves website, so please bookmark us before you go and return often.


Our Book on Amazon US: https://www.amazon.com/Elven-Way-Magical-Path-Shining/dp/1482672464/ref=asap_bc?ie=UTF8
Our Book on Amazon UK: https://www.amazon.co.uk/Elven-Way-Magical-Path-Shining/dp/1482672464/ref=asap_bc?ie=UTF8

For our international brothers and sisters, this book is also available on Amazon international sites as well as being available here on The Book Depository, which ships free internationally to many countries including Australia.


Kyela,
The Silver Elves

(Excerpt from "The Elven Way", Chapter 9: page 141-143):


The Magic of the Shining Ones

"As the awakened elf takes on greater initiation and begins to function creatively in cooperation with the Shining Ones and with Faerie itself, which is to say the Source, the great Magic, hir magical growth is quickened by the increased power and the intensity of the forces that sHe now uses for hir magical creations. Naturally, this causes a rapidity of evolutionary development that will not be found in your average normal person who most often not only doesn't embrace change, as the adept elf does, but actively avoids it, in fact, is in many ways terrified by its possibilities. This acceptance of new energies and possibilities by the elf, tends to arouse here-to-fore un-accessed parts of hir being, awakening latent talents, powers and abilities. Remember most humans only use a small portion of their brain capacity, and this increase in energetic connection tends to illuminate greater portions of our brains. In time, this development will prove evolutionarily significant."

"There are a number of effects of this evolutionary initiatory development for the adept elf, the first of which is that since the elf's powers are being heightened, the elf thus has more power to do good, as well as being faced with greater temptation, which is to say opportunity, to misuse this power. This is where the development of magical maturity becomes so very important. The elf comes to understand that magic is the use of will power to create effects in the world, but also that initiation requires the development of magical and enlightened intent. It is not enough to be able to create change according to one's will, one needs to create the type of change that will rebound positively for hir and all others and bring hir ever closer to Faerie by increasing hir awareness of and actualization of hir own true s'elf."

"Another effect, and this is an effect of growing maturity, is that the elf has a maximized increase in experience compared to most folks. That is to say that the elf experiences in a few years what others often take a lifetime to experience. This is in part why we so often are called old souls, and in fact, this is in part a result of having been through much of this in previous incarnations and are often recapitulating those lifetimes in this one, thus moving through such experiences much more quickly than a normal person tends to do."

"But also this is an effect of our increased vibrational rate in addition to our greater understanding of life and the occult, magical and mystical aspects of life. We process experiences more quickly and have less of a tendency to cling to things we have endured. We are more flexible, adaptable and less resistant to change. We are less likely to struggle with change and more likely to try to shape it to our intent. We always take with us what is valuable for us from our experience, but we are ever moving onward. Also, due to the increased vibrational frequency, we attract those who bring us even more experiences, greater knowledge and understanding. In part, this is a consequence of having cleared much of our karma and having set our course in such a way as to minimalize accumulating more negative karma, and when we do happen to do so, that is take a wrong karmic turn, we deal with it quickly, making adjustments and reparations as soon as we are able."

"Here also comes, with increasing clarity, the realization that our personal Destiny and the Destiny of all beings on our particular planetary system are in most cases intimately entwined. The threads of fate, karma and destiny hold us together lifetime after lifetime. And it is at this point that the adept elf begins to realize that the development of her power and abilities, the increasing power of her true s'elf, is not only in her own best interest, but in keeping with the true interest of everyone else as well. Thus it is also at this time that the elf plunges hirs'elf near totally into development of hir personal powers. SHe hungers to be greater, to have power in the world, and as long as sHe holds steadfast to hir intent, hir vision and the Elven Way, this is a natural and favorable advance in hir progress. This after all is the test. It is not just about increasing one's magical and other powers in a world that is, shall we say, magically challenged at this time, but being able as spirits to hold to the greater vision and not fall for the illusion, the maya, that is the world as it appears to be, and therefore become entangled in the endless fulfillment of desires without any understanding of the true goal that we seek to actualize. One must be aware not only of this lifetime, but the progress of what is called liåle in Arvyndase, or samsara in Buddhist philosophy, that is the progress of our soulful spirit through the lifetimes."